PAST EXHIBITION
CRYSTAL WAGNER: NEXUS
MARCH 2018
GALLERY HOURS
THURSDAY - SATURDAY | 12-6PM |
TUESDAY & WEDNESDAY | APPT ONLY |
PHONE # (206) 257-5513
Seattle, WA - Treason Gallery is pleased to announce it's March solo exhibition, Crystal Wagner: NEXUS. Crystal Wagner's work is one part ethereal and one part imaginative. Using a process deeply rooted in her instinctual reactions to space and environments, Wagner creates biological "growths" out of mixed mediums of non-organic materials. As naturally as vines overgrow the surfaces they interact with, Wagner's bioforms seem to have a life of their own. Her works evoke a unique mix of feelings, with their combination of exotic ecological familiarity and natural beauty.
NEXUS will consist of Wagner's newest body of work, created exclusively for her Pacific Northwest debut at Treason Gallery. The new works are consistent with the palettes found regionally: blue and green tones that splash across hand cut sculpture. Wagner's primary medium is Legion Paper, which she hand paints prior to constructing her bioforms. Wagner debuts her highly anticipated site-specific installation constructed inside the gallery space. The installation will encourage viewers to consider their place in the surrounding environments in which they interact. Over the course of the last two weeks prior to the exhibition, the installation has "grown" to completion. NEXUS seeks to be an interactive and thought provoking exhibit for all who attend.
LIMITED EDITION SCREEN PRINTS
Effervesce LE (2017)
Screen print on Legion Paper - Edition of 35 - 15" x 22"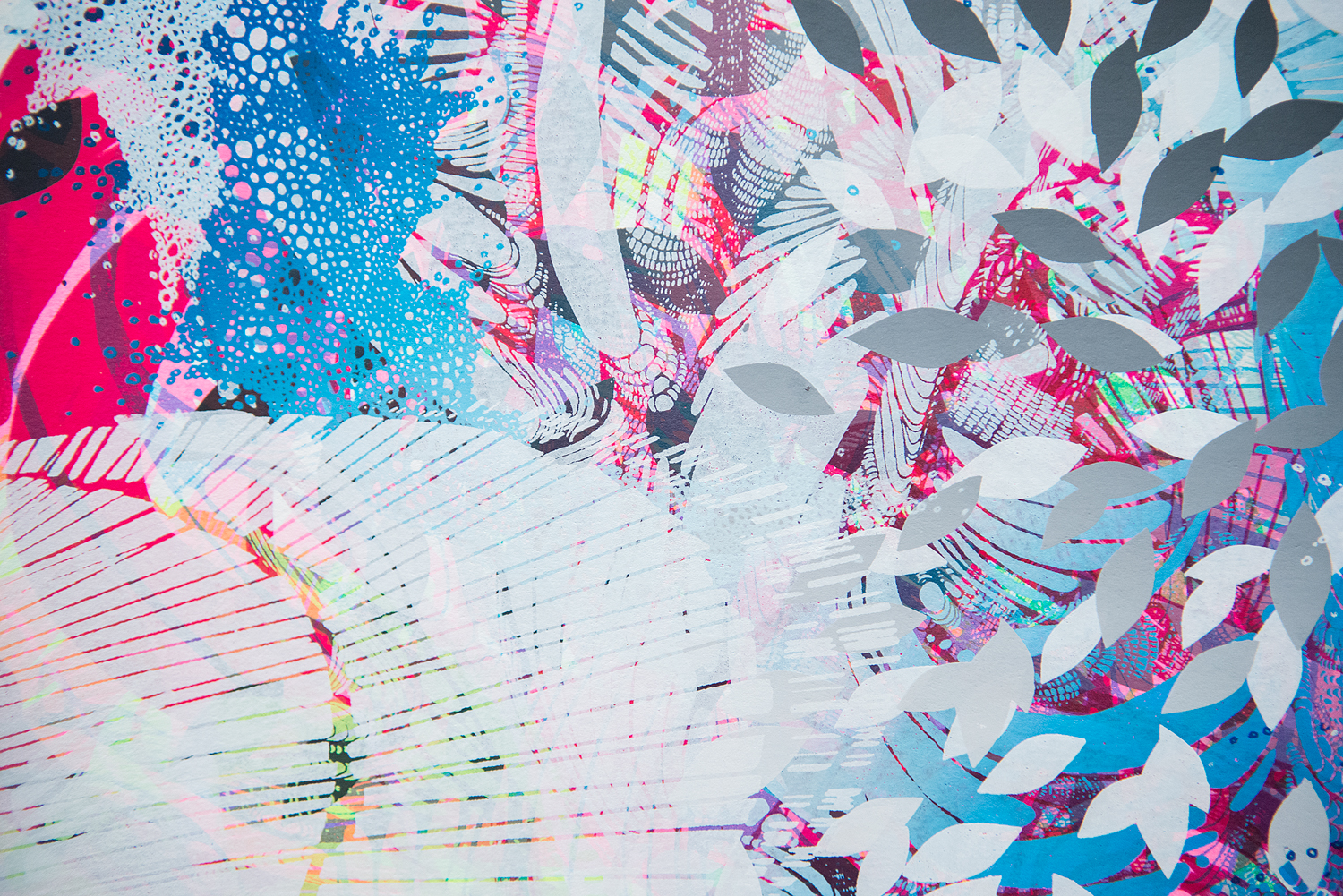 NEXUS (2018), Recycled birthday table cloth and hex netting
"With my installation work, I am exploring these ideas specifically as they relate to people and their physical sense of space in the modern world with a consideration of natural forms and structures based in nature. As a result of people spending more time immersed in the technological landscapes, consumed by their screens and digital spaces, their physical sense of self has been replaced by a binary one. Flat. I call this anomaly technological glaucoma. This has implications that are both psychological and physical. The installation pieces are hybrids between organic and manufactured worlds. They examine these ideas through the use of everyday, recycled materials that grow in the spaces that house them." - Crystal Wagner
EXPLORE THE GALLERY
Unable to come to the gallery in person? Take an inside look at the exhibition with our NEW interactive 3D virtual tour
CRYSTAL WAGNER | New York, NY
Crystal Wagner received her MFA from the University of Tennessee in 2008, her BFA from the Atlanta College of Art in 2004, and her AFA from Keystone College in 2002. After teaching as a college art professor for five years, Crystal left academia to focus exclusively on her studio practice. Wagner's interest in combining 2-dimensional and 3-dimensional forms, alternative use of materials, and hybrid approaches to printmaking, and massive site-specific installations, have led to her artwork being exhibited exten-sively in the U.S and abroad. Her most recent com-missions include a large-scale installation for the internationally recognized band The Flaming Lips. a large shadow box for GNU a snowboard company out of Portland, OR, a large-scale installation piece for NIKE, presented in the Shrine Auditorium for The KOBE X Blackout Experience, and most recently two installations for Viacom, one of which is a 117 ft piece at thier headquarters in Times Square.It was featured by the New York Times and was broadcast on national television on VH1's Top 20 Countdown.
GALLERY HOURS
THURSDAY - SATURDAY | 12-6PM |
TUESDAY & WEDNESDAY | APPT ONLY |
PHONE # (206) 257-5513
FOLLOW US ON INSTAGRAM
@TREASONGALLERY
#ACTSOFTREASON